جهت نمایش بهتر ویــدیــوها توصیه می شود از آخرین نسخه مرورگرها استفاده نمایید.
تا بارگذاری کامل ویـدیــوها صبرکنید.
Kawasaki VN 1700 Vulcan Vaquero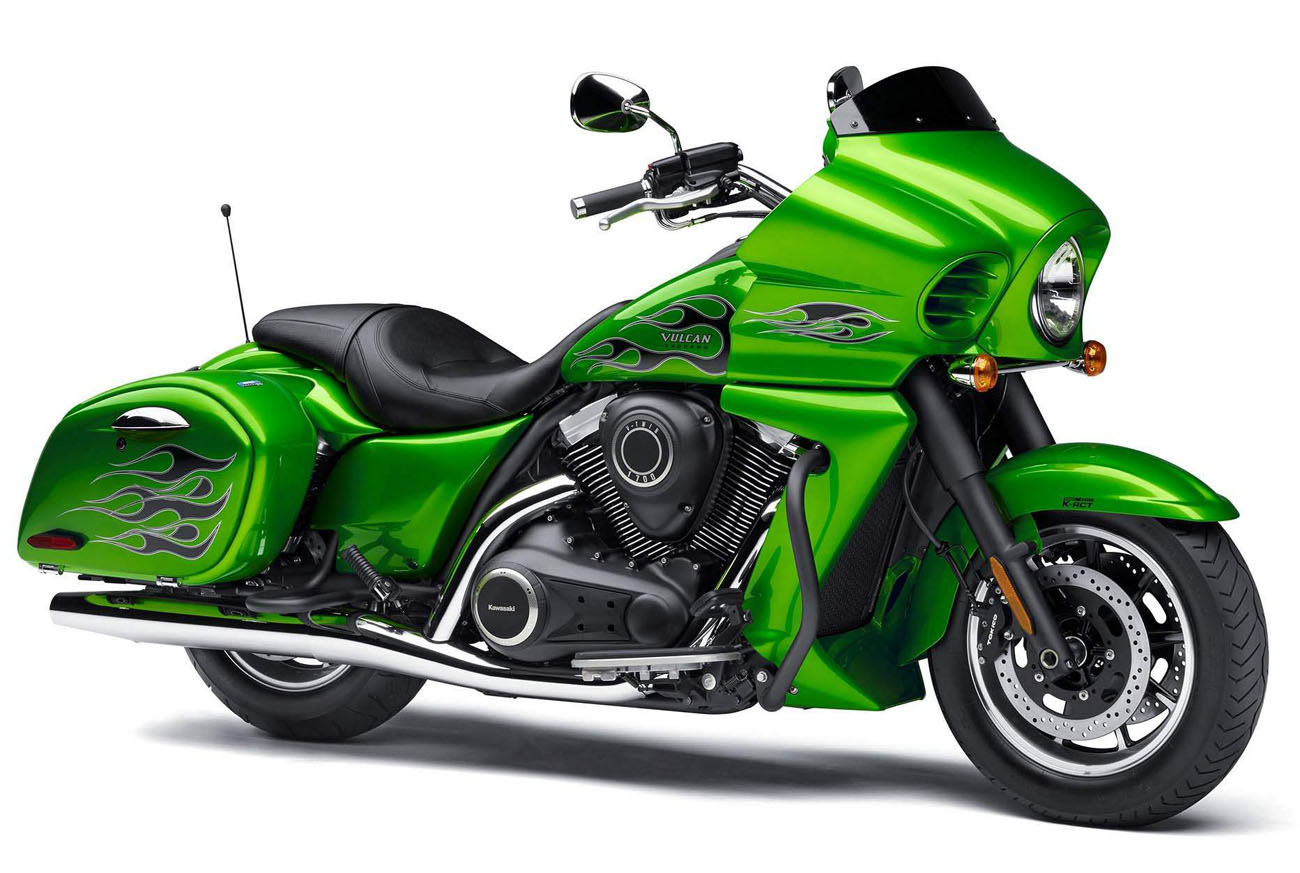 Make Model

Kawasaki VN 1700 Vulcan Vaquero / ABS

Year

2015

Engine

Four stroke, V-twin cylinder, SOHC, 8-valve.

Capacity

1700 cc / 103.7 cu in

Bore x Stroke

102 x 104mm

Cooling System

Liquid cooled

Compression Ratio

9.5:1

Induction

Digital fuel injection, dual 42mm throttle bodies

Ignition

Digital

Starting

Electric

Max Power

61 kW / 82 hp @ 5000 rpm

Max Torque

146 Nm / 14.9 kg-ƒm @ 2750 rpm

Transmission

6 Speed with overdrive

Final Drive

Carbon fiber belt

Gear Ratio

1st 3.077 (40/13) 2nd 1.900 (38/20) 3rd 1.407 (38/27) 4th 1.143 (32/28) 5th 0.967 (29/30) 6th 0.806 (29/36)

Clutch

Wet multi-disc, manual

Frame

Steel, double-cradle with box-section single-tube backbone

Front Suspension

43mm hydraulic fork

Front Wheel Travel

140 mm / 5.5 in

Rear Suspension

Swingarm with twin air-assisted shocks, with 4-way rebound damping

Rear Wheel Travel

78 mm / 3.1 in

Front Brakes

2x 300mm discs 2 piston calipers

Rear Brakes

Single 300mm disc 2 piston caliper

Front Tyre

130/90R16

Rear Tyre

170/70R 16

Dimensions

Length 2510 mm / 98.8 in.

Width 970 mm / 38.2 in.

Height 1290 mm / 50.8 in

Wheelbase

1665 mm / 65.6 in

Ground Clearance

145 mm / 5.7 in

Seat Height

730 mm / 28.7 in

Wet Weight

402 kg / 886 lbs

Fuel Capacity

20 Litres / 5.3 gal.
Who says you can't have a stylish cruiser that is still practical and dependable? Owners of a Vulcan® 1700 Vaquero® bagger have the best of both worlds. The traffic-stopping good looks will make you smile every time you throw a leg over this beauty. A frame-mounted, abbreviated fairing sets the stage while the elegant tank leads the eye to the shapely rear luggage of this V-twin bagger. The multi-textured, blacked-out engine and chassis treatment has been applied to components (like the air-cleaner cover, wheels, fork assembly and tank cover) that would normally be chromed. This leaves only a special few parts (engine guards, exhaust, mirrors, etc) that receive plating in order to act as bright accents to either the Candy Lime Green or Metallic Carbon Gray paint.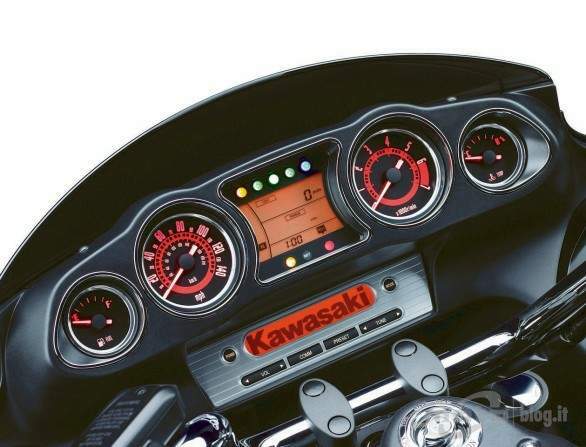 KAWASAKI VULCAN 1700 VAQUERO ABS HIGHLIGHTS
•Sporty, one-piece saddle with low seat height
•Powerful 1799cc V-twin engine
•"Muscle car" inspired instrumentation
•Blacked-out looks accentuate the lines and body shapes
•Six-speed transmission for effortless acceleration and relaxed cruising
•Electronic throttle actuation system
•Kawasaki's sophisticated K-ACT II ABS braking system
•Electronic cruise control
•AM/FM/WB audio system with iPod® and SiriusXM® radio compatibility
•Twin tapered mufflers maximize that undeniable V-twin sound
•Includes a class-leading 36-month limited factory warranty

Vaquero has the substance to back up the flashy styling. The beefy 1700cc
V-twin is tuned to deliver instant power with the twist of the wrist on both the boulevard and the highway—all with Kawasaki's famed long-term dependability. The impressive list of standard features rounding out the roomy cockpit, like electronic cruise control and a high output audio system, show the Vaquero's practical approach to racking up big miles. And, when this menacing stranger rolls into town on Friday evening, no one will forget the first time they saw the Kawasaki Vulcan Vaquero.

POWERTRAIN

Beneath all that beautiful bodywork, paint and chrome is a superbly engineered motorcycle, one that blends power, handling, a confidence-inspiring character and impressive dependability into a massively functional package.

It all starts with the Vaquero's 1,700cc liquid-cooled V-twin engine. It is a thoroughly proven design, with the 52-degree V-twin boasting the latest engine technology but with styling that indicates a throwback to the past. Features include an overhead camshaft design, high compression and a long-stroke dimensional design that results in the sort of effortless low- and mid-range thrust that's so desirable and enjoyable in a big-engined cruiser.

Vaquero's throttle valve system works with the advanced Digital Fuel Injection (DFI®) system to optimize engine response without detracting from its distinctive V-twin throb. The system uses an Accelerator Position Sensor (APS) and a Throttle Position Sensor (TPS) that feed data to the ECU. The ECU then adjusts the throttle plates to tailor intake airflow accordingly. The system offers a natural throttle feel, because APS is activated by a throttle body pulley connected to the throttle grip by a cable. Besides the obvious DFI advantages, such as improved fuel economy and automatic adjustment for altitude changes, the system also permits easy hands-off warm-up and idle speed control. Additionally, Vaquero features a water-cooled alternator that produces a staggering 46.8-amps of electrical output – plenty to power a selection of electronic accessories to enhance any road trip.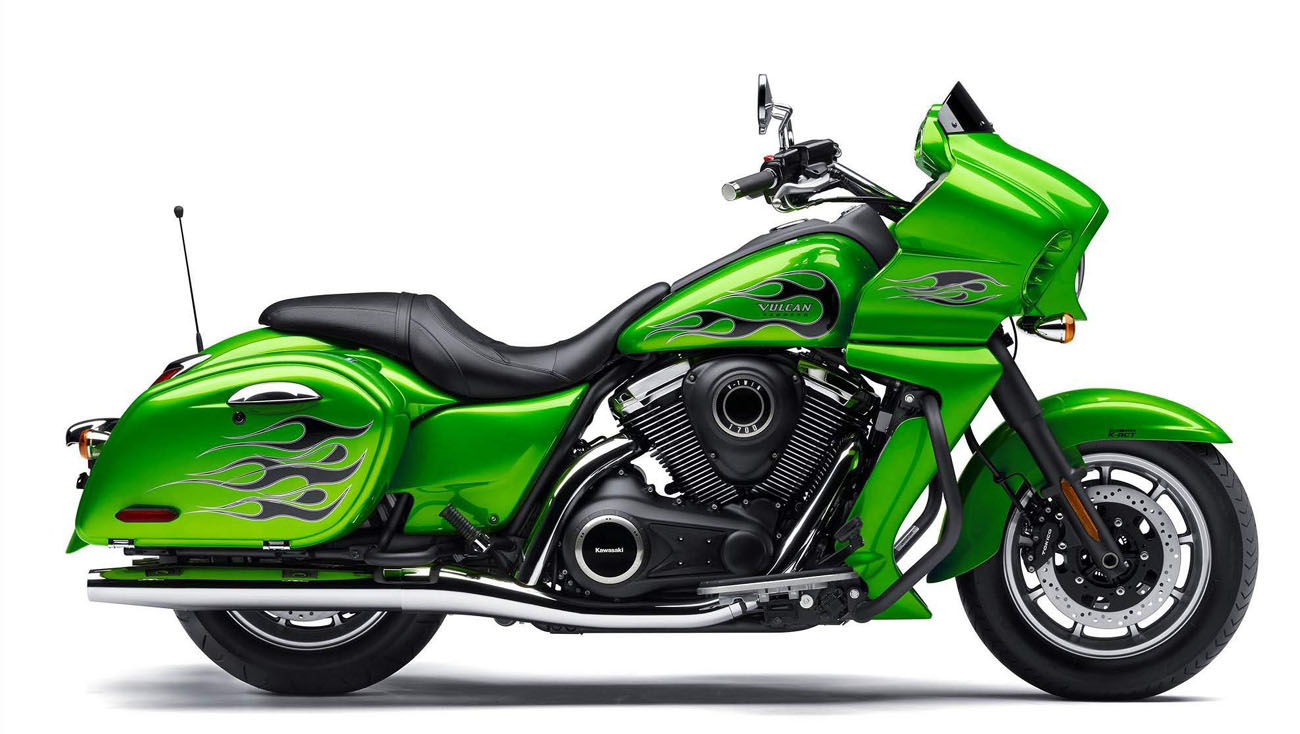 A massive quantity of usable torque spread out over a shockingly wide rpm range is the signature trait of its muscular V-twin. With 108 lb-ft of torque, a mere twist of the Vaquero's throttle delivers effortless acceleration for freeway passing or spirited riding, and the smooth wave of low-RPM grunt is always ready to turn heads when cruising down the boulevard.

Vaquero offers true touring-bike convenience in the form of its electronic cruise control system, conveniently operated from the right handlebar and usable at any speed between 30 and 85mph in any of the top four gears. The cruise system can be disengaged in any of the following ways: applying the front brake lever, clutch lever, rear brake pedal, or manually turning the throttle grip past the "closed" position.

Additional touring ability shines through the engine's six-speed transmission with overdriven fifth and sixth gears, which contributes to a relaxed ride and excellent fuel economy at highway speeds. Power is routed to the rear wheel via a carbon fiber-reinforced drive belt that has a 40-percent higher tensile strength than current Kevlar belts. And that chopped, custom-look fairing? Although lower than a traditional windshield or full fairing, it still cuts a decent-sized hole in the oncoming airflow, giving the rider a useful still-air cocoon in which to enjoy the ride.

AUDIO SYSTEM

The intercom headset-compatible, 40-watt, twin-speaker audio system features navigation audio prompts, a three-band (FM/AM/WX) radio that is also compatible with iPod®, SiriusXM® radio tuner, select GPS devices or a CB radio unit. The audio system (and iPod) can be operated by an integrated controller on the left handlebar. In addition to volume, the rider can also adjust the bass, treble and balance levels of the system.

HARD BAGS

Lockable side-loading hard bags are beautifully integrated and spacious, and styled to highlight the bike's long, low look. A scooped saddle offers a comfortable rider perch, while a minimalist passenger pad sits atop a smooth-shaped rear fender that integrates equally stylish taillight and turn signal assemblies.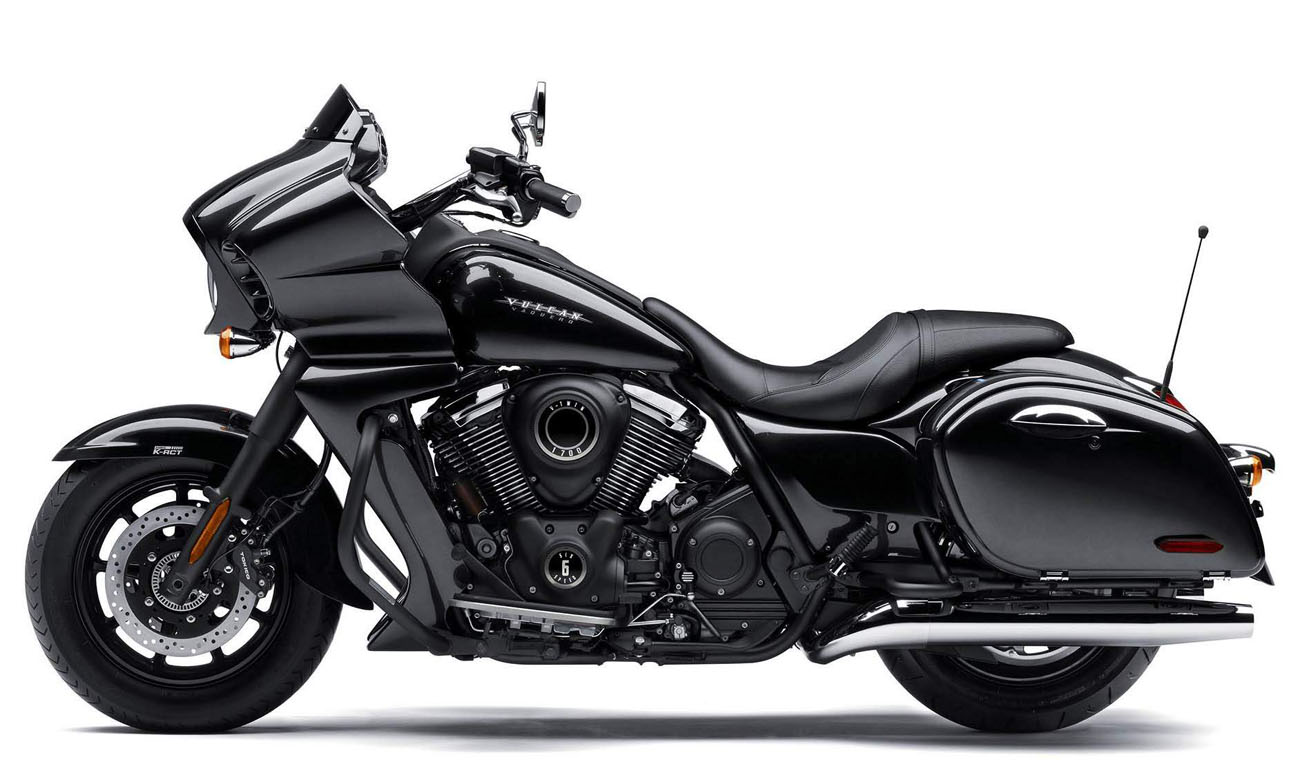 FRAME & SUSPENSION

The frame holding all this hardware together is a single backbone, double cradle unit designed to be as slim and light as possible for an easy reach to the ground and optimal handling. Bolted to the steering head is a mammoth 45mm fork assembly offering 5.5" of wheel travel and a thoroughly compliant ride.

The rear suspension consists of twin air-assisted shocks with rebound damping adjustability plus a spring calibrated for touring and it all works with a beefy steel swingarm. Nine-spoke cast aluminum flat-black wheels hold fat, 130/90 front and 170/70 radial tires that offer light handling characteristics, superb traction and long life.

KAWASAKI K-ACT II ABS BRAKES

The 1700 Vaquero's braking hardware consists of dual 300mm front discs with twin-piston calipers and a 300mm rear disc with a two-piston caliper—all linked and enhanced by the Kawasaki Advanced Coactive-braking Technology (K-ACT II) ABS system. K-ACT II uses advanced electronics to translate the rider's braking inputs from both the front lever and rear pedal into smooth, balanced deceleration and maximum stopping performance. Basically, the front lever also activates the rear brake, and the rear pedal also engages the right front caliper. K-ACT II ensures all this happens seamlessly and efficiently, and the second-generation system uses the same smaller, lighter ABS unit and faster, higher-spec brake ECU found on the Kawasaki Concours®14 ABS motorcycle for smooth, precise operation. The K-ACT coactive function does not engage when braking is applied at speeds below 12mph, such as in a parking lot, while the ABS function is automatically disengaged at speeds below 4mph.

It all adds up to a truly top-of-the-line bagger that encompasses a perfect combination of traits: It's functional in a wide range of environments, from inner-city cruising to running down the open road. It has highly advanced technology. And it's astoundingly beautiful, a bike that will put goosebumps on your arms every time you open the garage door.

ACCESSORIES

A full range of Kawasaki Genuine Accessories are available at authorized Kawasaki dealers. These include favorite options such as a selection of Windshields, Auxiliary Lamps and a KQR™ (Kawasaki Quick Release) Passenger Backrest. The range of accessories also comprises an iPod® Connector, SiriusXM® Radio Module, Standard Gel Seat, Dual Gel Saddle, Saddlebag Liners, Auxiliary Lights, DC Power Sockets, GPS Mount, Billet Handlebar Clamps, Engine Cover Trim, Saddlebag Top Rails, Custom Cover and more. Please see your Kawasaki dealer for more information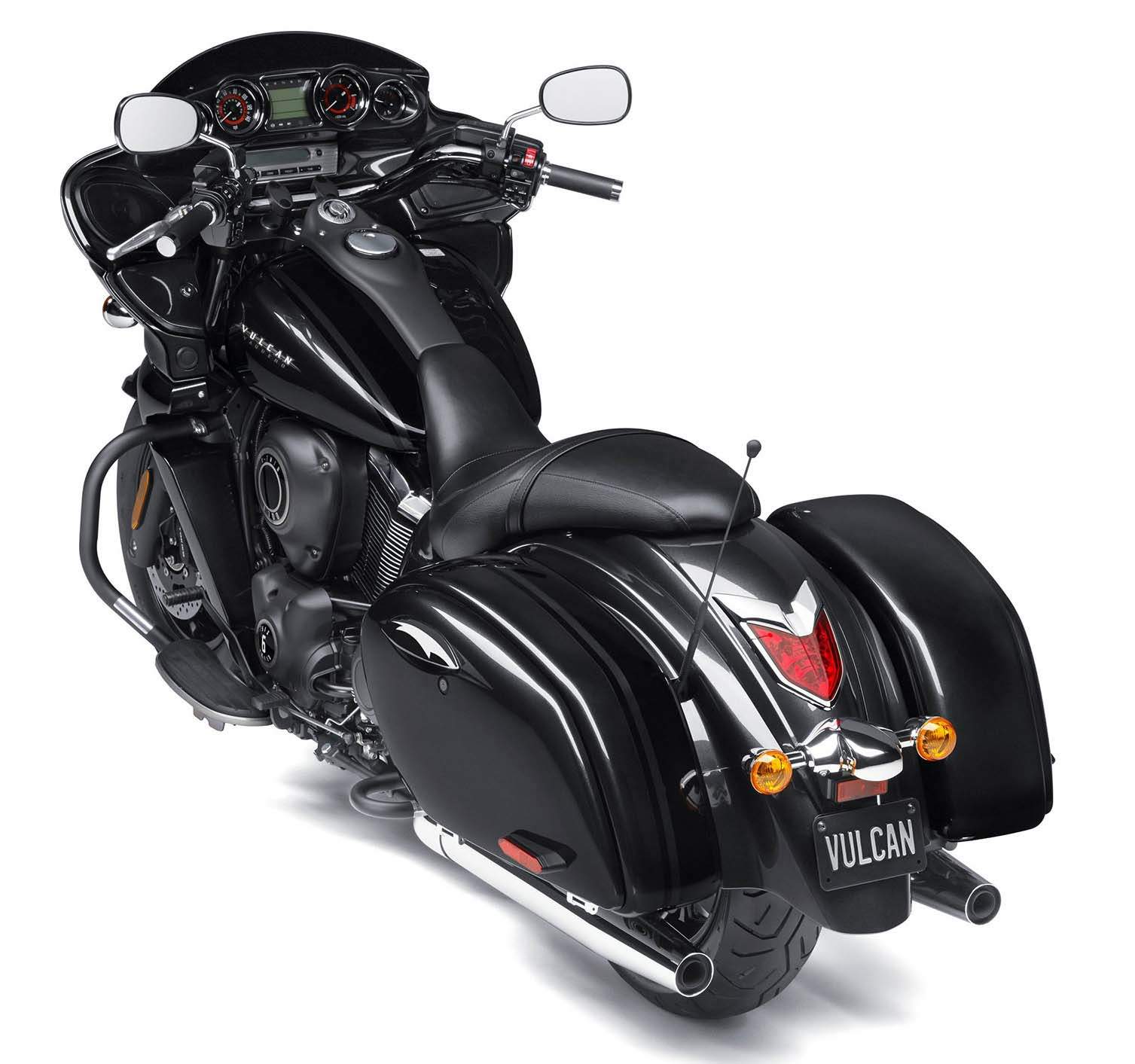 Key Features
- Blacked-out looks accentuate the lines and body shapes through the use of varied surface texture and subtle, contrasting highlights
- Sporty, one-piece saddle with low seat height emphasizes the classic, long, low "bagger" look
- "Muscle car" inspired instrumentation delivers essential information with style
- Powerful 1,700cc V-twin delivers impressive levels of torque and immediate passing power
- Six-speed transmission for effortless acceleration and relaxed cruising at highway speeds
- Electronic throttle actuation system combines optimized injector timing for throttle valve position, delivering accurate, powerful engine performance
- Kawasaki's sophisticated K-ACT II ABS system builds rider confidence by helping execute balanced braking
- Electronic cruise control maintains speed and reduces rider fatigue on long trips
- Stylish, frame-mounted fairing keeps steering feel light by directing aerodynamic forces into the chassis
- Feature-rich, AM/FM/WB audio system with iPod® and SiriusXM® radio compatibility is standard equipment
- Twin tapered mufflers maximize saddlebag capacity and improve the engine's power delivery
- Includes a 36-month limited factory warranty, with the optional Kawasaki Protection Plus Plan adding up to an additional 36 months (depending on the plan purchased)

Powerful 1,700cc V-twin engine
- Fuel-injected 52-degree 1,700cc V-twin is liquid-cooled and features four valves per cylinder
- Long-stroke 102 x 104mm bore and stroke dimensions deliver high torque levels with a powerful and distinct V-twin feel
- Valve-actuation system uses a single overhead cam arrangement instead of pushrods for quicker revving and enhanced mid-high rpm power
- Semi-dry sump design allows lower crankshaft positioning and a longer piston stroke without increasing engine height
- Single-pin crankshaft accentuates the engine's V-twin character by providing strong power pulses
- Large-capacity airbox is located on both sides of the engine
- Small-diameter iridium sparkplugs reach deep into the combustion chamber for high combustion efficiency, especially during low-load operation
- Engine tuning, combined with long-stroke design, offers superior acceleration in the 50-70 mph range
- Ample power in overdrive (fifth and sixth gears) to make highway passing easy

Digital Fuel Injection (DFI®)
- Dual 42mm throttle bodies with atomizing fuel injectors produce a fine fuel mist for better combustion and fuel consumption

Electronic Throttle Valve System
- Fully electronic throttle actuation system enables the ECU to control the volume of intake air (via throttle valve angle) and fuel (via fuel injector timing) delivered to the engine
- Optimized injector timing and throttle valve position results in accurate, powerful engine response
- Control of both injection and airflow provides easy starting and precise cold-engine idle speed control
- From the rider's perspective, the ETV system works like a standard cable-operated throttle; the throttle grip remains connected to cables, so the feel at the grip is the same
- Twisting the throttle turns a pulley on the throttle body, which triggers the Accelerator Position Sensor (APS) to send a signal to the ECU, which then modulates the throttle valves via a DC motor
- Accurate throttle position is relayed to the ECU by a Throttle Position Sensor (TPS)
- APS and TPS send two sets of signals to the ECU for system redundancy in the unlikely event of a sensor failure

Electronic Cruise Control System
- When activated, the system maintains a desired speed
- Cruise control can be engaged and adjusted entirely from the right handlebar
- Cruise system can be activated in third gear or above at any speed between 30 mph and 85 mph
- Pressure on the brake lever, clutch lever or rear brake pedal automatically disengages the cruise control, as does manually rolling off the throttle

On Board Diagnostics
- Diagnostic system allows self testing of the electronic systems on the Vulcan 1700 motorcycles
- System displays codes on the instrumentation, which can be read by owner

6-speed Transmission / Final Drive
- Durable and easy-shifting six-speed transmission with positive neutral finder
- Fifth and sixth are overdrive gears for excellent fuel economy when cruising at highway speeds
- Carbon fiber-reinforced final drive belt offers a 40 percent increase in tensile strength compared to current Kevlar belts
- Belt drive system is quiet, efficient and offers reduced maintenance compared to a chain

Kawasaki Advanced Coactive-braking Technology (K-ACT II) ABS
- Vaquero ABS features Kawasaki's sophisticated K-ACT II system, which helps riders to execute balanced braking. Designed to complement the riders' brake inputs, the system distributes the ideal amount of brake pressure to maximize braking efficiency
- Low battery mode maintains ABS function while reducing signal frequency to conserve power when needed
- For increased controllability in tight parking lots and when executing U-turns, K-ACT II's coactive function does not engage when braking is initiated at speeds below 12mph
- ABS function is disengaged at speeds below 4mph, such as when in your home garage
- Dual 300mm front disc brakes with four-piston calipers and a two-piston rear disc brake for sure, powerful stops

Chassis
- The strong steel frame allows a relatively short wheelbase for optimal ergonomics and easy maneuverability
- Large, steel, box section backbone frame is very rigid and helps contribute to high stability as well as light handling at low speeds

45mm Telescopic Fork
- Provides superb steering feedback
- 5.5" of travel for excellent ride quality
- Optimized damping and spring settings for a plush but controlled ride

Dual Air-adjustable Rear Shocks
- Air-adjustable shocks can be tuned to match varying loads or rider preference
- Four-way rebound damping adjustability is quickly and easily accessible to tune the suspension

Nine-spoke Cast Aluminum Wheels
- Light and strong wheels allow the use of tubeless tires, while flat black paint nicely complements the Vaquero's styling treatment
- Fat and long-wearing 130/90 front and 170/70 rear tires
- Tire choice and suspension settings augment the chassis' light handling characteristics

Styling and Bodywork
- Basic engine architecture supports the Vaquero's factory-custom look, while its blacked-out color with machined and bare-aluminum accents sets off the bike's color scheme
- Gloss and matte finishes on the engine highlight aesthetics even further
- Hand-formed body shapes create a highly customized appearance
- Many of the parts are exclusive to the Vaquero, which add to its factory-custom look and feel. These include the engine shrouds, rear fender, one-piece side covers, saddlebags, fairing and seat
- Front fairing looks like a true custom piece, right down to the abbreviated smoked windscreen and color-matched headlight cover
- Sculpted strut covers seamlessly fill the space between the rear fender and saddlebags
- Mufflers are tapered at their ends for a thoroughly retro look
- Sculpted, custom-look seat looks good and cradles the rider for maximum comfort
- LED taillight is attractive and highly conspicuous when lit

Wind Protection
- Large, wide fairing with abbreviated windscreen provides substantial wind and weather protection for the rider
- With the fairing mounted directly to the frame, any wind buffeting is transferred to the bike rather than the handlebar, helping to enhance highway stability and reduce rider fatigue

Convenient Storage
- Vaquero features hard, lockable and sealed, side-opening side cases that provide nearly 10 gallons of storage space each for overnight touring
- The flowing, rounded shape is an attractive alternative to the square, boxy luggage found on other bagger models
- Up front, lockable glove boxes provide a handy place for storing smaller items
- Dual under-seat helmet holders

Classic Custom Dashboard / Advanced Audio
- Instrument layout and large round dials give the Vaquero's console a custom look with a retro flavor
- The radio/stereo unit features a classically custom look from the 1960s
- Multi-function LCD display in the center of the instrument console is controlled by switches on the right handlebar. Features include a gear position indicator, fuel gauge, clock, odometer, dual trip meters, remaining range and average fuel consumption
- Analog displays include speedometer, tachometer and coolant temperature gauge
- Audio system with twin speakers features radio (FM/AM/WX) and compatibility with optional iPod®, SiriusXM® tuner or CB radio units
- The audio system (including an iPod®, which plugs easily into the left fairing pocket) can be operated by switches on the left handlebar
- Ignition switch allows key removal in the on position, which prevents keys from damaging the black finish tank cover during operation
- Turning the ignition switch collar to the ACC position allows accessories to be used while the engine is off; turning it to the "OFF" position turns the engine off and secures the ignition when parked

Comfort
- Sculpted seat blends a stylish shape with ideal foam density for all-day comfort
- Scooped shape allows an easy reach to the ground
- Upright riding position and rubber-topped floorboards contribute to substantial riding comfort
- Dual adjustable rear air-shocks use settings optimized for a compliant ride and higher-load carrying when needed

Long Range
- 5.3-gallon fuel tank offers a substantial range, helping to minimize fuel stops when out on the open road